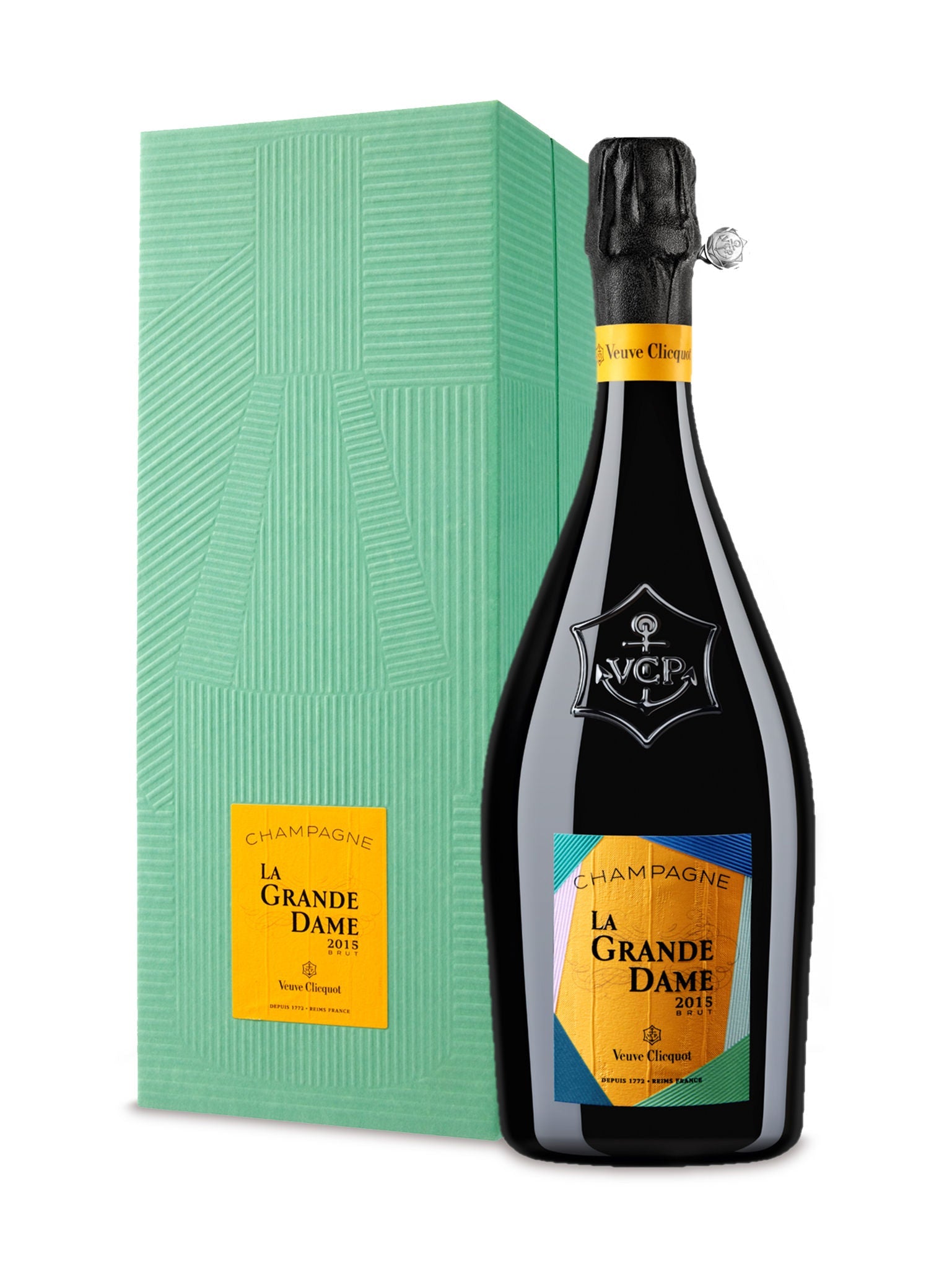 Veuve Clicquot La Grande Dame Brut Champagne 2015
---
Sale price

$375.00
Regular price
(/)
---
Veuve Clicquot La Grande Dame Brut Champagne 2015 - A Celebration of Heritage and Craftsmanship

From the storied cellars of Veuve Clicquot, a name revered in the annals of winemaking, emerges the La Grande Dame Brut Champagne 2015. A reflection of the Maison's dedication to excellence and a tribute to Madame Clicquot herself, this exceptional champagne encapsulates the spirit of innovation and tradition that has defined Veuve Clicquot for centuries.

A Visual Feast for the Senses
Pouring the champagne into a flute, one is immediately captivated by its golden hue, shimmering with a radiant luminosity. Tiny, persistent bubbles rise in a delicate ballet, promising an effervescence that is both vivacious and refined.

Nose – A Tapestry of Aromas
The initial aromatic embrace of the La Grande Dame 2015 is a mosaic of complexity. Fresh notes of white flowers seamlessly blend with hints of citrus fruits. As it unfolds, deeper layers emerge with fragrances of fresh brioche, vanilla, and toasted nuts, painting a sensory portrait that is both intricate and inviting.

Palate – Elegance Defined
Upon tasting, the Veuve Clicquot La Grande Dame 2015 reveals a symphony of flavors. Freshness of crisp apples and pears dances harmoniously with the richness of creamy textures. There's a structured depth, punctuated by the delicate yet pronounced effervescence, leading to a finish that is long, lingering, and profoundly memorable.

A Testament to Excellence
The 2015 iteration of La Grande Dame is a masterful blend, primarily comprising Pinot Noir, with a touch of Chardonnay, sourcing the very essence of Veuve Clicquot's distinguished vineyards. Every bottle bears witness to the meticulous care and unparalleled craftsmanship that define the Maison's ethos.

Gifting a Legacy
To present the Veuve Clicquot La Grande Dame Brut Champagne 2015 is to offer more than just a luxurious drink. It's a gesture steeped in history, a nod to the indomitable spirit of Madame Clicquot, and a celebration of the Maison's unyielding pursuit of perfection.

The Veuve Clicquot La Grande Dame Brut Champagne 2015 stands as a beacon in the world of fine champagnes, an embodiment of elegance and a tribute to the legacy of one of the world's most distinguished champagne houses. As the cork is popped and the bubbles rise, one is transported to a world of sophistication, where every sip is a journey through time and tradition. Here's to the moments that deserve nothing but the finest, and to memories crafted with the exquisite embrace of Veuve Clicquot. Cheers!
| | |
| --- | --- |
| Type | Champagne |
| Region | Champagne, France |
| Brand | Veuve Clicquot |
| SKU | 38802 |
| Alcohol content | 12% |
| Size | 750mL |
This product is currently only available for delivery in the following provinces: Ontario
Please be advised that the vintage of the product may differ from the image shown, as the latest vintage available from the winery or Liquor Control Board of Ontario's inventory will be delivered, unless the vintage is specified in the product title.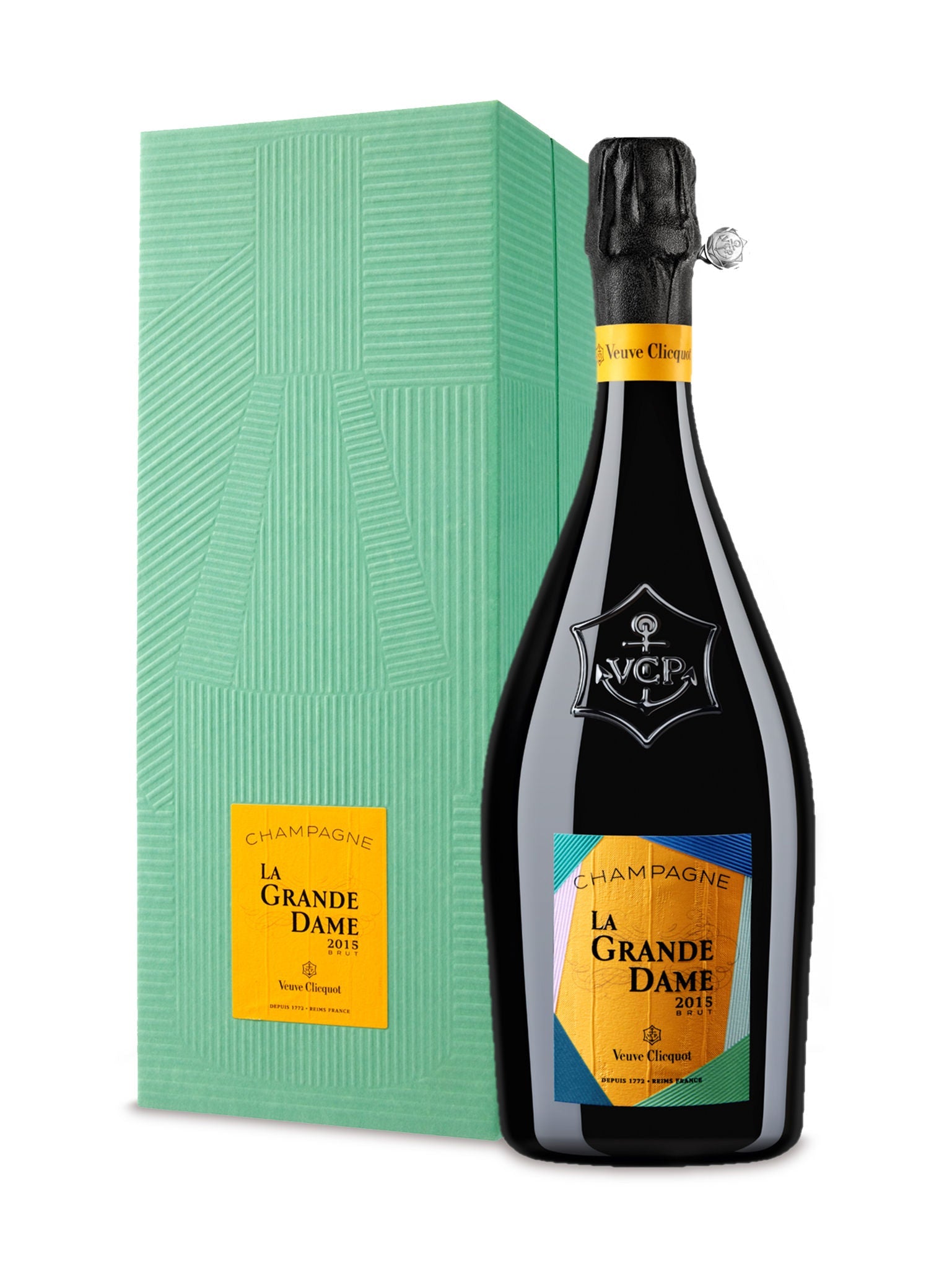 Veuve Clicquot La Grande Dame Brut Champagne 2015
Sale price

$375.00
Regular price
Choose options