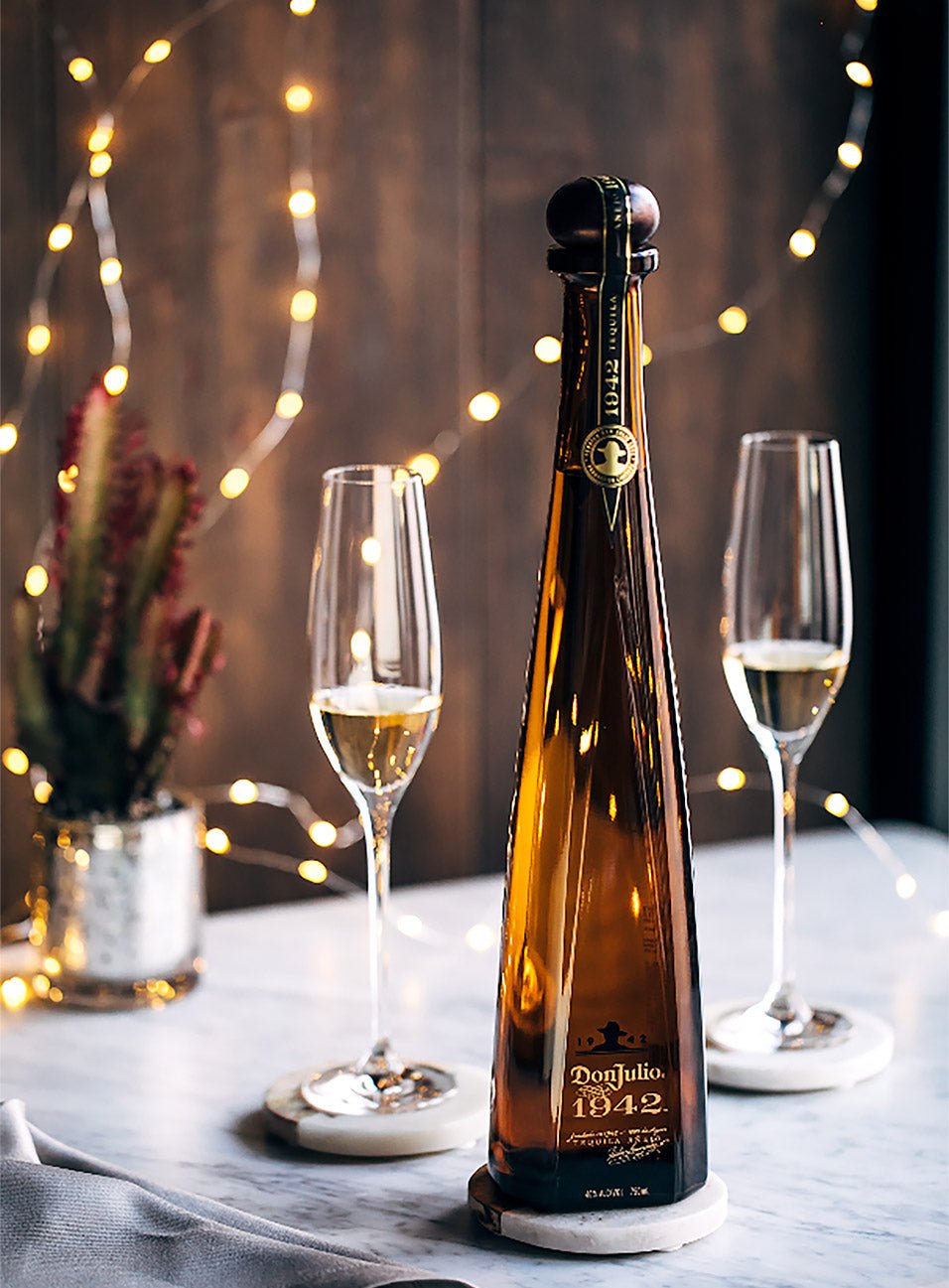 Tequila Don Julio 1942
---
---
TEQUILA DON JULIO 1942: A Toast to Tradition and Excellence

In the revered halls of tequila royalty, Tequila Don Julio 1942 commands a special place. Crafted with unparalleled precision and artistry, it serves as a shining example of Mexico's rich distilling heritage.

The Majestic Profile of Don Julio 1942
Bearing a golden amber hue, this tequila is a visual treat even before it's savored. Its aromatic profile is a symphony of caramel, chocolate, and almond undertones, which evolve into richer notes of toffee and vanilla on the palate. The finish, smooth yet distinctively sharp, is an echo of the passion and meticulous craftsmanship that goes into every bottle.

The Legacy of Don Julio
With roots deep in the blue agave fields of Jalisco, Tequila Don Julio 1942 is a product of tradition and an enduring commitment to quality. Each bottle is a reflection of the meticulous care given to the agave plants, from their cultivation to the final distillation.

Whether you're in Toronto or its outskirts, our impeccable "wine delivery Toronto" service ensures that this esteemed tequila reaches you in pristine condition. And if it's a remarkable gift you're looking for, our Canada gift delivery service wraps up this essence of Mexico and delivers it with grace and reliability.

The Spirit of Celebration: Elevate Your Moments
To gift Tequila Don Julio 1942 is to share a piece of Mexico's storied tequila tradition. It's more than a drink—it's a conversation starter, a reason for celebration, and an experience unto itself. With every sip, one is transported to the agave fields of Jalisco, tasting the passion and dedication that defines Don Julio. Whether for a grand occasion or a quiet reflection, Tequila Don Julio 1942 ensures that the moment is nothing short of extraordinary.
| | |
| --- | --- |
| Type | Tequila |
| Composition | 100% Blue Agave |
| Region | Jalisco, Mexico |
| Brand | Don Julio |
| SKU | |
| Alcohol content | 40% |
| Size | 750mL |
This product is currently only available for delivery in the following provinces: Ontario
Please be advised that the vintage of the product may differ from the image shown, as the latest vintage available from the winery or Liquor Control Board of Ontario's inventory will be delivered, unless the vintage is specified in the product title.
Tequila Don Julio 1942
Sale price

$390.00
Regular price
Choose options