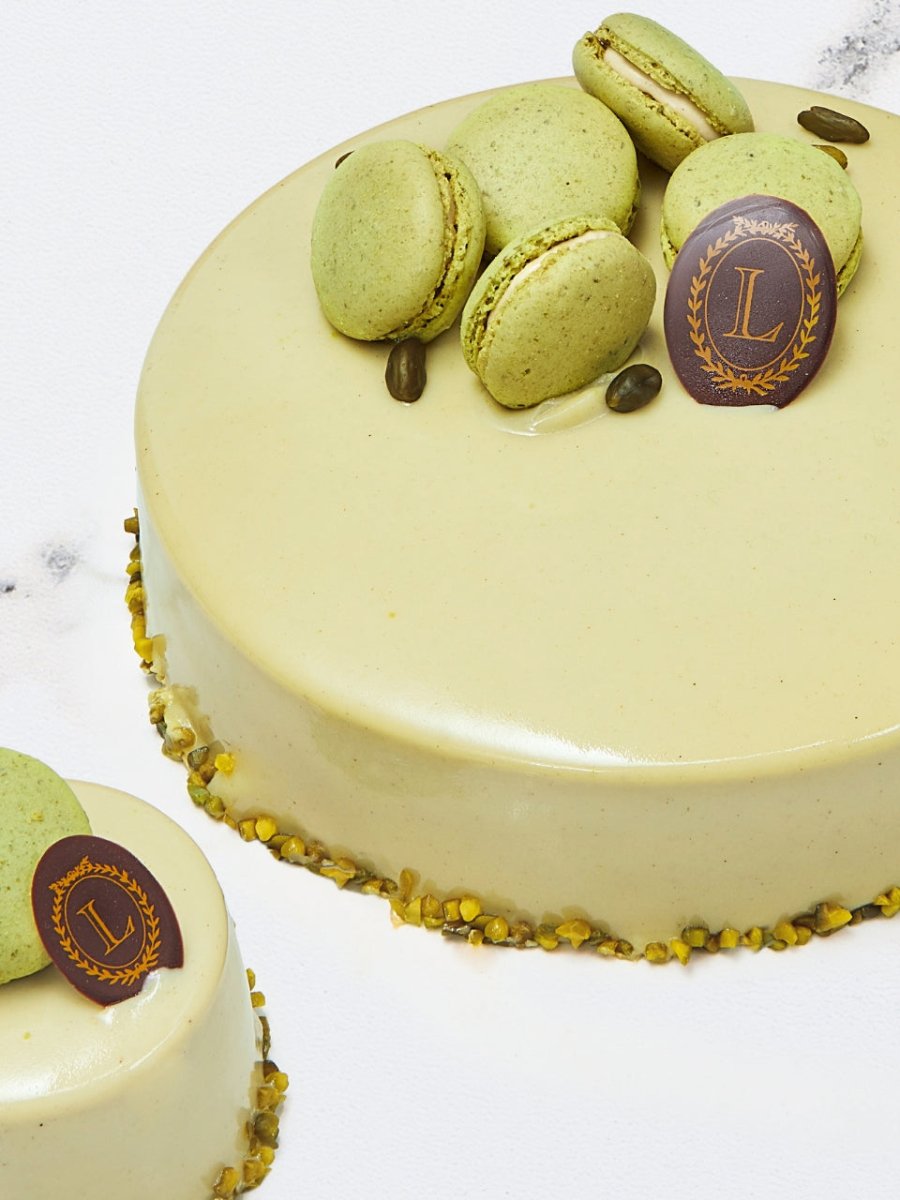 Ladurée Pistachio Macaron Cake
---
LADURÉE Cake Dimensions
Dimensions for our cake portions are as follows:
4 portions: Diameter 15cm x Height 5cm
6 portions: Diameter 17.5cm x Height 5cm
8 portions: Diameter 20cm x Height 5cm
Kindly be advised that there may be minor variations in these measurements.
Sale price

$70.00
Regular price
(/)
Kindly note: To ensure the utmost quality and freshness, this product requires a 48-hour preparation period before dispatch.
---
Discover a symphony of refined tastes with the Ladurée Pistachio Macaron Cake, an emblem of the grandeur of French patisserie craftsmanship. This luxurious creation is an ode to the beloved pistachio, each element meticulously designed to accentuate its rich, nutty essence.

Embarking on this gourmet journey, one first encounters the velvety pistachio mousseline cream—a delicate embrace that sets the tone for the flavors to come. Nestled within this dreamy milieu are two tender pistachio macaron biscuits, their crisp exterior yielding to a soft center, epitomizing Ladurée's legendary prowess in macaron-making.

Yet, the intrigue deepens. A layer of pistachio praliné wafer introduces a delightful crunch, its sweet and savory notes resonating in harmonious balance. The sprinkling of roasted pistachio nuts serves as a textured counterpoint, providing depth and a touch of rustic charm to this sophisticated ensemble.

The visual and gustatory crescendo is achieved with the crowning glory: a shimmering pistachio mirror glaze. Reflecting the verdant hues of fresh pistachios, it's a sight to behold, evoking the lush orchards where these precious nuts are harvested. Adorning this pistachio tapestry are elegantly placed pistachio macarons and nuts, adding a final flourish of panache.

With the Pistachio Macaron Cake, Ladurée presents a harmonious blend of tradition, innovation, and sheer passion. It's not merely a dessert—it's an immersive experience that invites you to partake in a rich heritage of confectionery excellence.
This product is currently only available for delivery in the following cities;

City of Toronto
North York
Oakville
Mississauga
Markham
Vaughan
Scarborough
Richmond Hill
Choose options