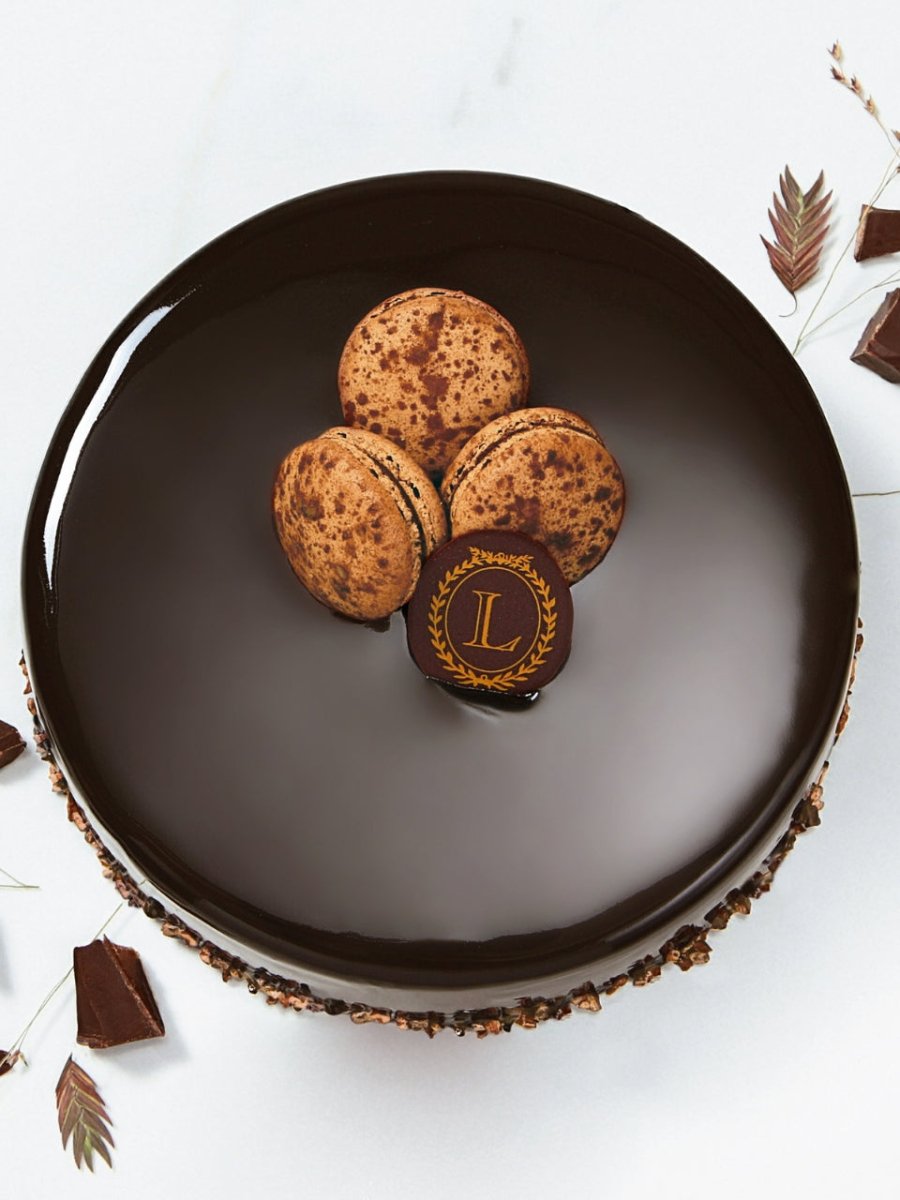 Ladurée Chocolate Macaron Cake
---
LADURÉE Cake Dimensions
Dimensions for our cake portions are as follows:
4 portions: Diameter 15cm x Height 5cm
6 portions: Diameter 17.5cm x Height 5cm
8 portions: Diameter 20cm x Height 5cm
Kindly be advised that there may be minor variations in these measurements.
Sale price

$70.00
Regular price
(/)
Kindly note: To ensure the utmost quality and freshness, this product requires a 48-hour preparation period before dispatch.
---
Indulge in the artistry of French patisserie with Ladurée's Chocolate Macaron Cake—an opulent journey into the depths of cocoa decadence, where traditional craftsmanship meets contemporary flair. Designed for the discerning palate, this cake captures the essence of chocolate in its richest, most nuanced form.

The adventure starts with a foundation of a chocolate macaron biscuit, a showcase of Ladurée's iconic macaron prowess. This biscuit, with its perfect balance of textures—crispy on the outside and soft within—sets the tone, preparing the palate for the layers of sophisticated tastes that follow.

Atop this rests a lavish layer of praliné crunch, delivering a delightful crunchiness that contrasts with the softness of the biscuit, a tantalizing hint of what's to come. Its nutty undertones elevate the richness of the chocolate, creating a harmonious dance of flavors.

The journey deepens with a layer of dark chocolate crémeux, crafted from the premium Valrhona Guanaja 70%. This crémeux is a smooth, velvety delight, providing a concentrated burst of cocoa that's both intense and refined, satisfying the cravings of even the most ardent chocolate aficionados.

Swathing these layers is a delicate mousse made from Valrhona Manjari 64% dark chocolate. This mousse, with its airy texture and profound chocolate taste, encapsulates the cake, providing both contrast and cohesion to the ensemble.

No Ladurée masterpiece is complete without an aesthetic touch, and this cake is no exception. It's crowned with a lustrous black mirror glaze that reflects the world around it, a nod to the world-class artistry that went into its creation. And, as a final flourish, it's adorned with chocolate macarons, a testament to the legacy and heritage of Ladurée.

With the Chocolate Macaron Cake, Ladurée offers more than just a dessert—it presents an experience, a moment of luxurious indulgence where every bite is a testament to passion, precision, and perfection.
This product is currently only available for delivery in the following cities;

City of Toronto
North York
Oakville
Mississauga
Markham
Vaughan
Scarborough
Richmond Hill
Choose options