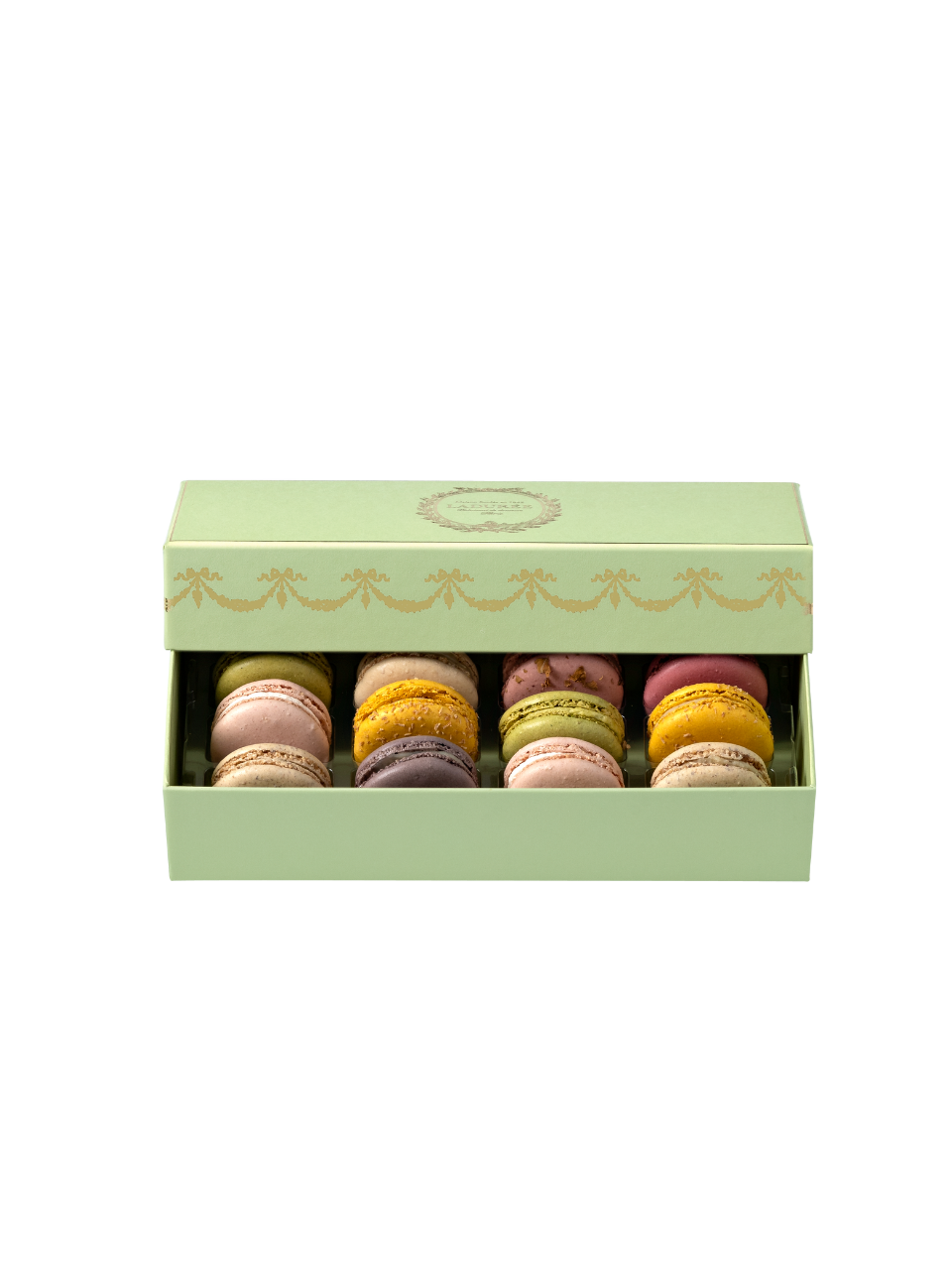 Ladurée Assorted Macarons Gift Box - 12 piece Classic Edition
---
LADURÉE Cake Dimensions
Dimensions for our cake portions are as follows:
4 portions: Diameter 15cm x Height 5cm
6 portions: Diameter 17.5cm x Height 5cm
8 portions: Diameter 20cm x Height 5cm
Kindly be advised that there may be minor variations in these measurements.
Sale price

$74.00
Regular price
(/)
---
Experience the epitome of Parisian culinary sophistication with LADURÉE PARIS's 12-piece Classic Macarons collection. Enveloped in an exquisitely designed box, these macarons are symbolic of the luxury and tradition LADURÉE has been associated with for decades.

Every individual macaron, perfectly crafted by expert hands, tells a story of timeless French craftsmanship and gastronomy. As you bite into one, it's not just the flavors that enthrall you, but the very soul of Paris that whispers tales of its historic boulevards, quaint cafes, and the romantic Seine river. From their delicate shells to their rich, creamy centers, these macarons are an embodiment of perfection, much like the city they represent.

The assortment of flavors in this 12-piece collection promises an unparalleled tasting journey. Each flavor, distinct and authentic, serves as a tribute to the various facets of French culture and cuisine. They echo the commitment LADURÉE has always had towards upholding its age-old traditions while infusing modern elements.

As you present this box to someone, it's not just a box of macarons they receive but a slice of Paris itself. The Classic Macarons set serves as the perfect gift for those who appreciate the finer things in life, those who cherish moments of pure indulgence. It's an offering of love, luxury, and most importantly, a rich heritage that dates back centuries.

Step into an aromatic journey of textures and flavors, where every macaron is a chapter, and every box, a book on Paris's grandeur. Dive deep into this culinary tale with LADURÉE's 12-piece Classic Macarons, where every bite is a memory waiting to be created.
Guide to Savoring Your Macarons For optimal flavor, allow your macarons to sit at room temperature for 15 minutes before enjoying. Store any remaining macarons in the bottom of your fridge and consume within 4 days.

Allergens This product may contain allergens including almond, fish, soya, oats, milk, hazelnut, and pistachio.

Shipping Orders outside the Greater Toronto Area are meticulously dispatched via express courier within a 24 to 48-hour window.

Legal Disclaimer Due to hygiene and safety considerations, we do not accept returns or exchanges of any food products, except in cases specifically agreed upon by our Customer Support team. Should a return be authorized, the product must be sent back in its original condition and packaging, along with a valid proof of purchase.
This product is currently only available for delivery in the following provinces:

Alberta
British Columbia
Manitoba
New Brunswick
Newfoundland and Labrador
Nova Scotia
Ontario
Prince Edward Island
Quebec
Saskatchewan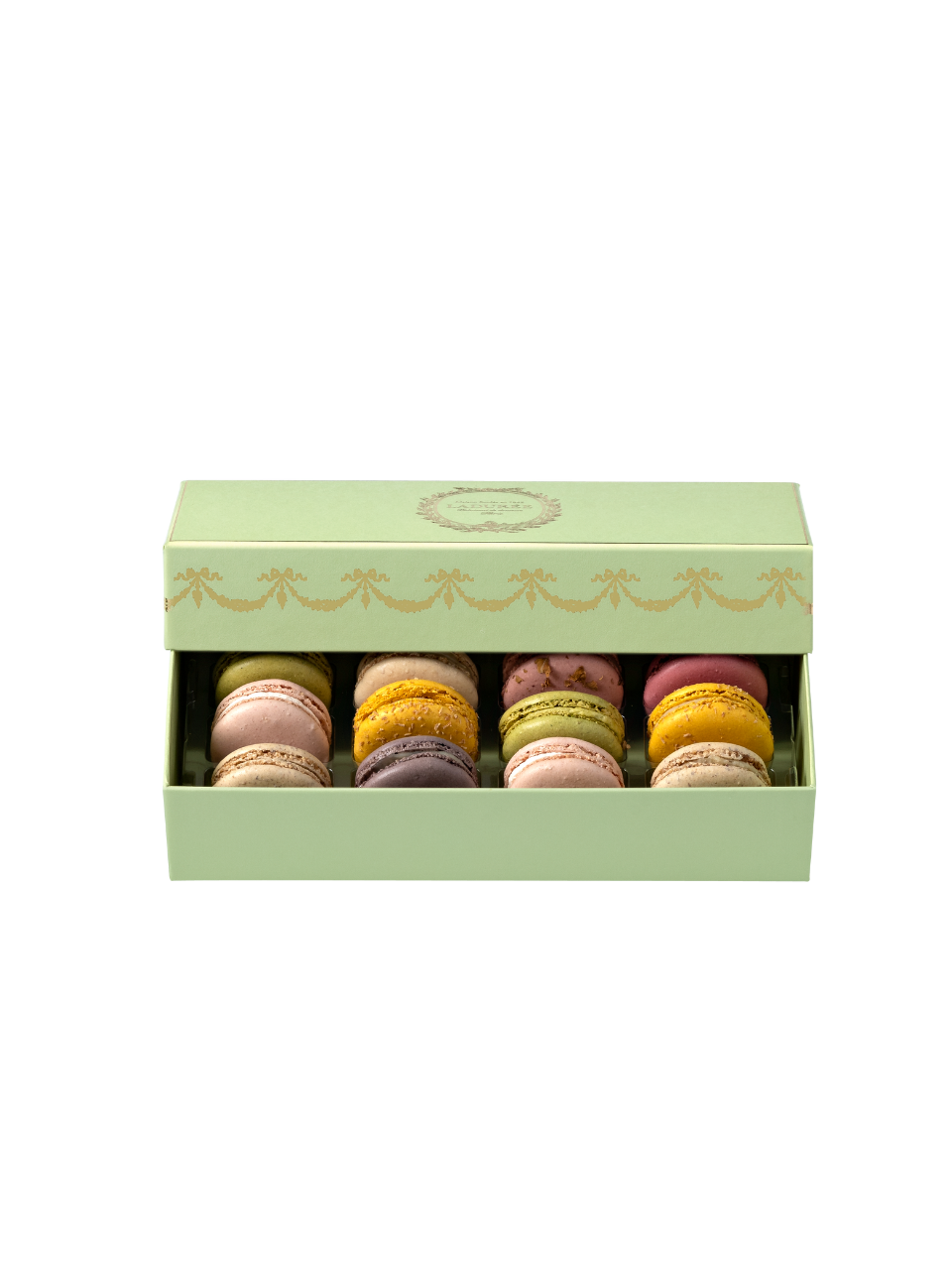 Ladurée Assorted Macarons Gift Box - 12 piece Classic Edition
Sale price

$74.00
Regular price
Choose options