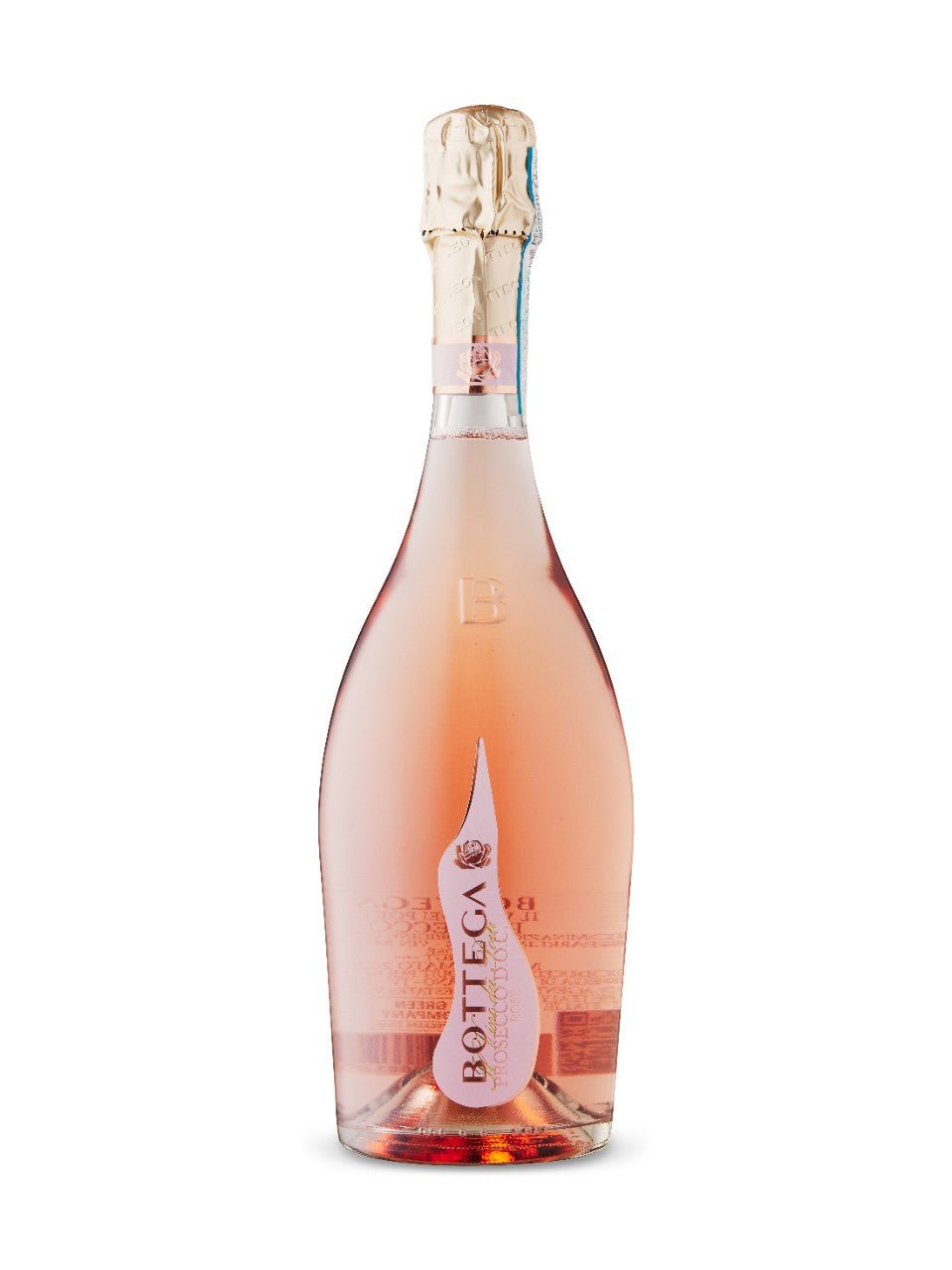 Bottega Prosecco Rose DOC Spumante Brut, Veneto
---
Sale price

$26.00
Regular price
(/)
---
Bottega Prosecco Rose DOC Spumante Brut, Veneto: An Elegant Sparkling Expression
A Delightful Union of Varietals
Bottega Prosecco Rose DOC Spumante Brut mingles the vivacity of Glera grapes with the distinct berry nuances of Pinot Noir, offering a sparkling rose that is both lively and graceful. This Veneto-originating bubbly effortlessly intertwines the zest of Prosecco with the elegant fruitiness of rose.
Appealing Palette of Flavors and Aromas
The allure of Bottega Prosecco Rose unveils itself through vibrant aromas of mixed berries and subtle floral notes. Its palate is a delightful tapestry of crisp acidity and refreshing berry flavors, ensuring a spirited and balanced sipping experience.
The Charm of Italian Sparkling Wine
Prosecco Rose from Bottega brings forth the renowned Italian winemaking heritage, presenting a spumante that is as suited to joyful celebrations as it is to intimate moments. It epitomizes the elegance and exuberance found in Italy's cherished sparkling wines.
Pairing Versatility
Its vibrant acidity and fruitful undertones render Bottega Prosecco Rose a versatile companion to various culinary creations. From delicate seafood and light appetizers to flavorful mains and sweet treats, this spumante effortlessly elevates the dining experience with its delightful presence.
Experience the Bubbly Elegance
With every effervescent sip, Bottega Prosecco Rose invites you into a world where Italian vivacity and elegance coalesce. Whether enjoyed as a cheerful aperitif, a companion to meals, or a celebratory toast, it brings a dash of sparkling sophistication to any occasion.
Bottega Prosecco Rose DOC Spumante Brut, Veneto: A Gorgeous Gifting Option
Make a Statement with a Gift
Bottega Prosecco Rose is not merely a sparkling wine; it's a gift that speaks volumes about appreciation and celebration. Presenting a bottle of this splendid Prosecco Rose as a gift is a beautiful way to convey your sentiments on special occasions, be it anniversaries, birthdays, or milestones.
Exquisite Packaging, A Pleasurable Surprise
The elegant packaging of Bottega Prosecco Rose amplifies its gifting appeal, presenting itself as a sumptuous surprise ready to delight any recipient. Its visual allure hints at the refined and uplifting experience contained within each bottle, promising moments of joyful indulgence.
A Toast to Celebrate Moments
When unwrapped, this exquisite sparkling wine becomes more than just a gift; it transforms into a catalyst for celebration and cherished memories. Each pop of the cork unleashes a cascade of vibrant bubbles and delightful aromas, turning moments into occasions worthy of a cheerful toast.
Gift That Resonates with Elegance
Bottega Prosecco Rose is a gift that resonates with sophistication and joy, allowing you to share a tangible expression of your best wishes. Its elegant presence and delightful flavors become a shared experience between you and the recipient, fostering connections and happy memories.
Gifting Bottega, Sharing Joy
Whether it's acknowledging achievements, expressing gratitude, or celebrating life's beautiful moments, gifting Bottega Prosecco Rose is a splendid way to share joy and make occasions unforgettable. It's more than a gift; it's an invitation to savor moments and create memories together.
Allow Bottega Prosecco Rose to be your messenger of joy and appreciation, transforming ordinary gifting into an extraordinary experience of shared celebration and delightful indulgence.
This product is currently only available for delivery in the following provinces: Ontario
Please be advised that the vintage of the product may differ from the image shown, as the latest vintage available from the winery or Liquor Control Board of Ontario's inventory will be delivered, unless the vintage is specified in the product title.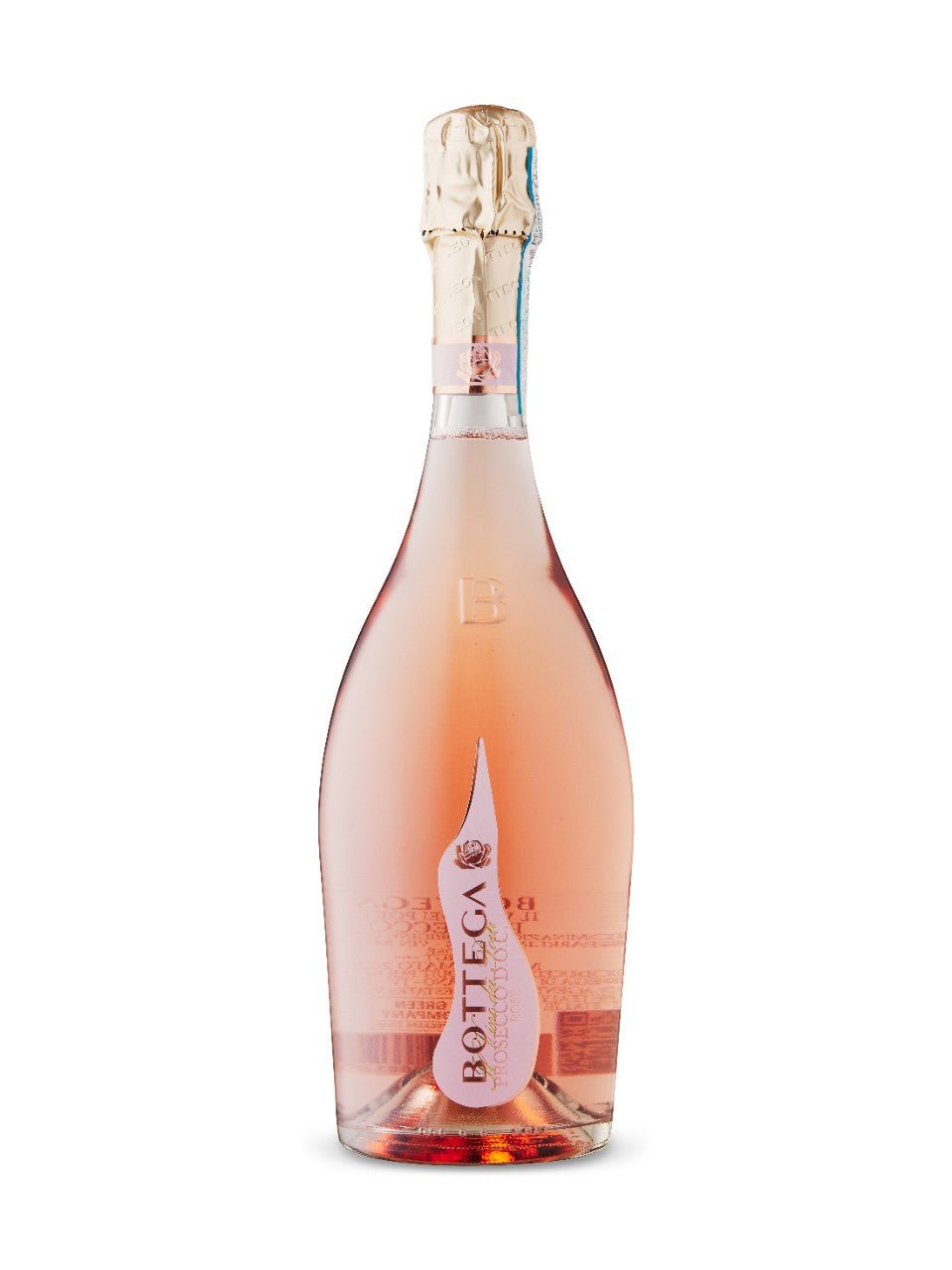 Bottega Prosecco Rose DOC Spumante Brut, Veneto
Sale price

$26.00
Regular price
Choose options