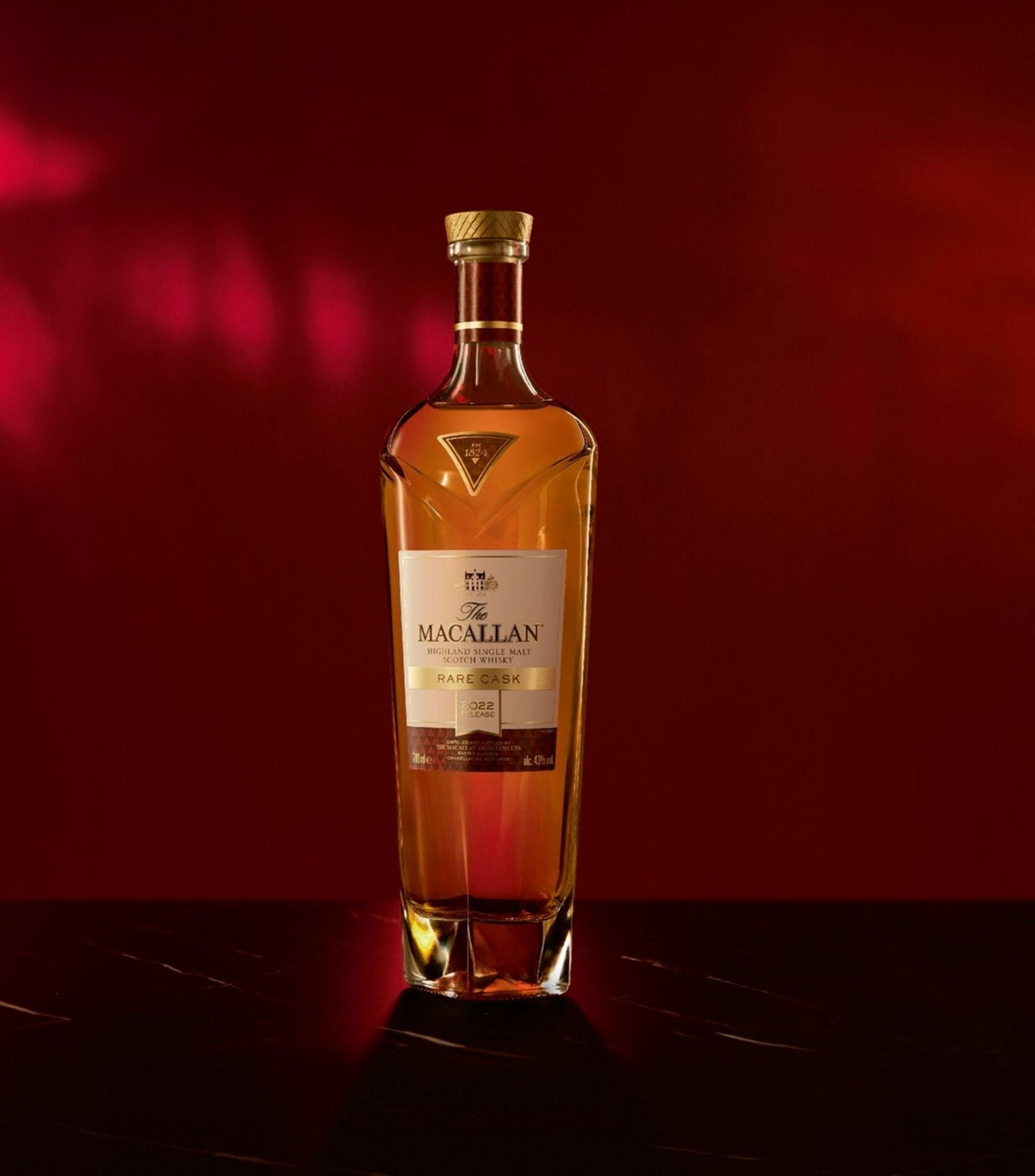 The Macallan Rare Cask Whisky
---
---
THE MACALLAN RARE CASK WHISKY: A Symphony of Mastery and Elegance

The Macallan Rare Cask Whisky stands as a testimony to The Macallan's unwavering dedication to the art of whisky making. Delving deep into the heritage of this revered brand, the Rare Cask is an embodiment of its timeless tradition and relentless pursuit of excellence.

Unraveling the Taste Tapestry
Each sip of this enchanting whisky is like turning the pages of a rich history book. Experience a cascade of flavors, from vibrant notes of dried fruits and chocolate, harmoniously intertwined with subtle hints of vanilla and a delicately spiced finish. The rich amber hue of the whisky captures the very essence of The Macallan's impeccable standards and the craftsmanship bestowed upon every cask.

A Timeless Presentation
The Macallan Rare Cask doesn't just allure with its taste but also with its visual grandeur. The elegantly designed bottle speaks volumes about the luxury and sophistication contained within. It is an ode to The Macallan's meticulous attention to detail, ensuring that every aspect, from taste to presentation, resonates with opulence.

For those special moments in Toronto, our "wine delivery Toronto" service ensures that this exquisite whisky graces your occasion. And when seeking a gift that epitomizes luxury and elegance, our "Canada gift delivery" service presents The Macallan Rare Cask as the perfect offering.

A Whisky Beyond Comparison
The Macallan Rare Cask Whisky is not just a drink; it is an experience, a journey through time and a celebration of the unparalleled skills of the master blenders. For the connoisseurs who appreciate the finer things in life and understand the beauty of patience and craftsmanship, this whisky offers an indulgence like no other. Celebrate life's milestones and moments with The Macallan Rare Cask, where every sip is a tale of legacy, passion, and excellence.
The current release available is from year 2021.
| | |
| --- | --- |
| Type | Whisky |
| Color | Ruby Red |
| Region | Scotland, United Kingdom |
| Brand | The Macallan |
| SKU | |
| Alcohol content | 43% |
| Size | 750mL |
This product is currently only available for delivery in the following provinces: Ontario
Please be advised that the vintage of the product may differ from the image shown, as the latest vintage available from the winery or Liquor Control Board of Ontario's inventory will be delivered, unless the vintage is specified in the product title.
The Macallan Rare Cask Whisky
Sale price

$699.00
Regular price
Choose options