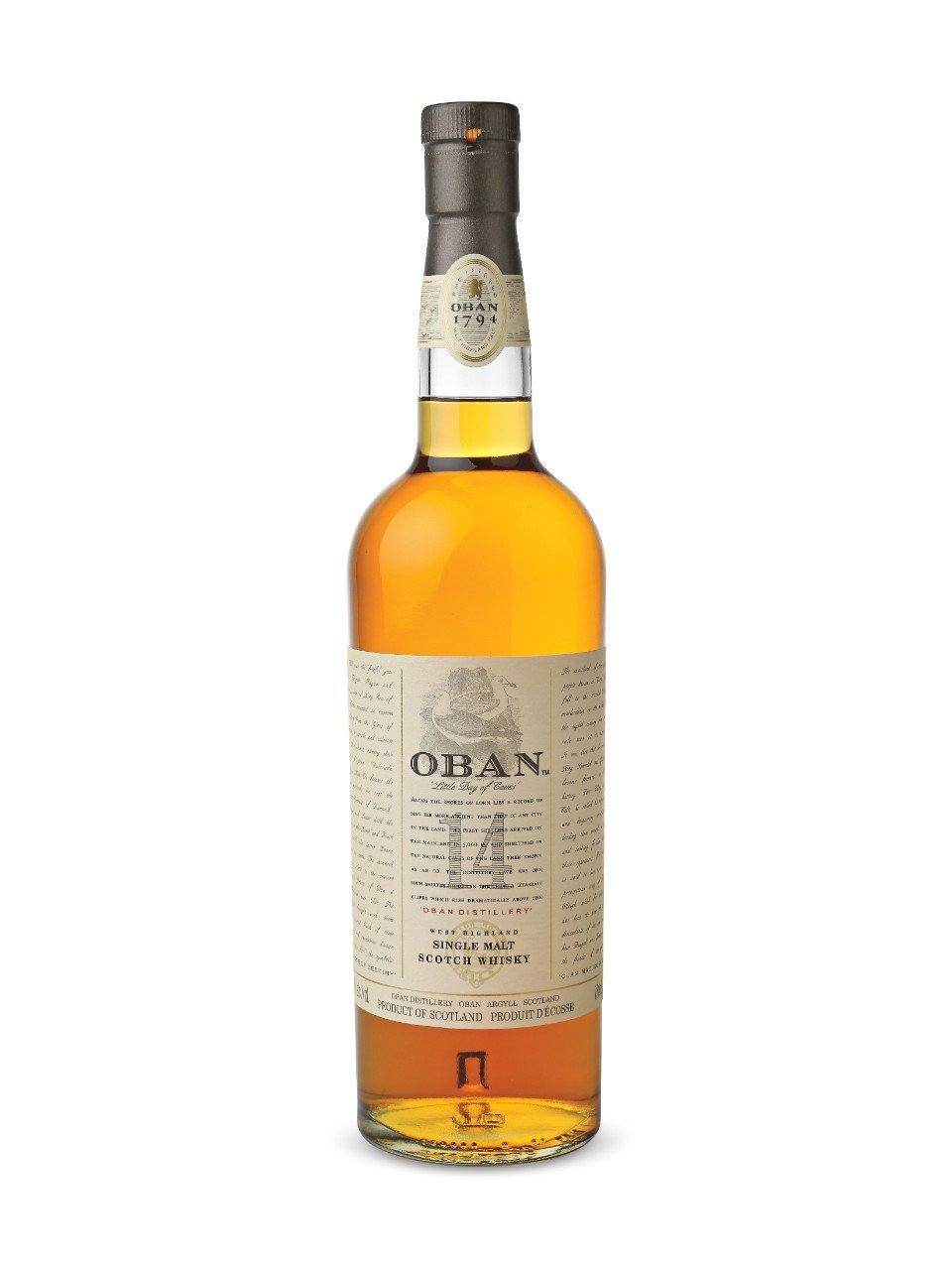 Oban 14 Year Old Single Malt Scotch Whisky
---
---
Oban 14 Year Old Single Malt Scotch Whisky: A Confluence of Land and Sea

Imbued with the spirit of its historical maritime surroundings, Oban 14 Year Old Single Malt Scotch Whisky brings forth a delightful blend of traditional Scottish distillation and the atmospheric essence of its coastal locale.

A Nautical Narrative Distilled
Nestled within a snug harbor, the Oban Distillery, one of Scotland's oldest and smallest, stands as a beacon of whisky-making history, with its origins stretching back to 1794. The distillery's intimate scale, coupled with its enduring methodologies, ensures that each drop of Oban 14 radiates a deep connection to its maritime heritage. Here, the rhythmic ebb and flow of the sea intertwines with the meticulous art of distillation, resulting in a whisky rich in both tradition and coastal character.

A Voyage of Flavor Complexity
Oban 14 unfurls a distinct narrative upon the palate, where the tranquility of lush, Highland landscapes meets the untamed nature of the sea. The first sip brings forth a luscious sweetness, reminiscent of dried figs and honey, gently swept along by a waft of sea salt and a delicate smoky whisper. It glides smoothly towards notes of citrus and a hint of chocolate, leading to a beautifully warming and spicy finish that lingers, like a cozy, fading sunset.

An Emblem of Maritime Connection
When offered as a gift, Oban 14 Year Old becomes a symbolic vessel, ferrying its recipient on a maritime journey through Scotland's rich, whisky-making heritage. It is not merely a whisky; it is a convergence of land, sea, and tradition, elegantly captured within a bottle. This classic single malt, admired by connoisseurs and enthusiasts alike, evokes moments of reflection, where each sip unveils another layer of its complex, coastal narrative.

Gifting the Oban 14 Year Old is to share a timeless spirit that traverses beyond mere taste, offering a momentary voyage to the misty, sea-kissed shores of the Scottish Highlands, and a heartfelt toast to enduring craftsmanship and the ever-present romance of the ocean. It's a captivating journey, intended to be sipped, savored, and shared with those who appreciate the intricate blend of tradition, place, and exquisite flavor.
| | |
| --- | --- |
| Type | Whisky |
| Region | Scotland, United Kingdom |
| Brand | Oban |
| SKU | |
| Alcohol content | 40% |
| Size | 750mL |
This product is currently only available for delivery in the following provinces: Ontario
Please be advised that the vintage of the product may differ from the image shown, as the latest vintage available from the winery or Liquor Control Board of Ontario's inventory will be delivered, unless the vintage is specified in the product title.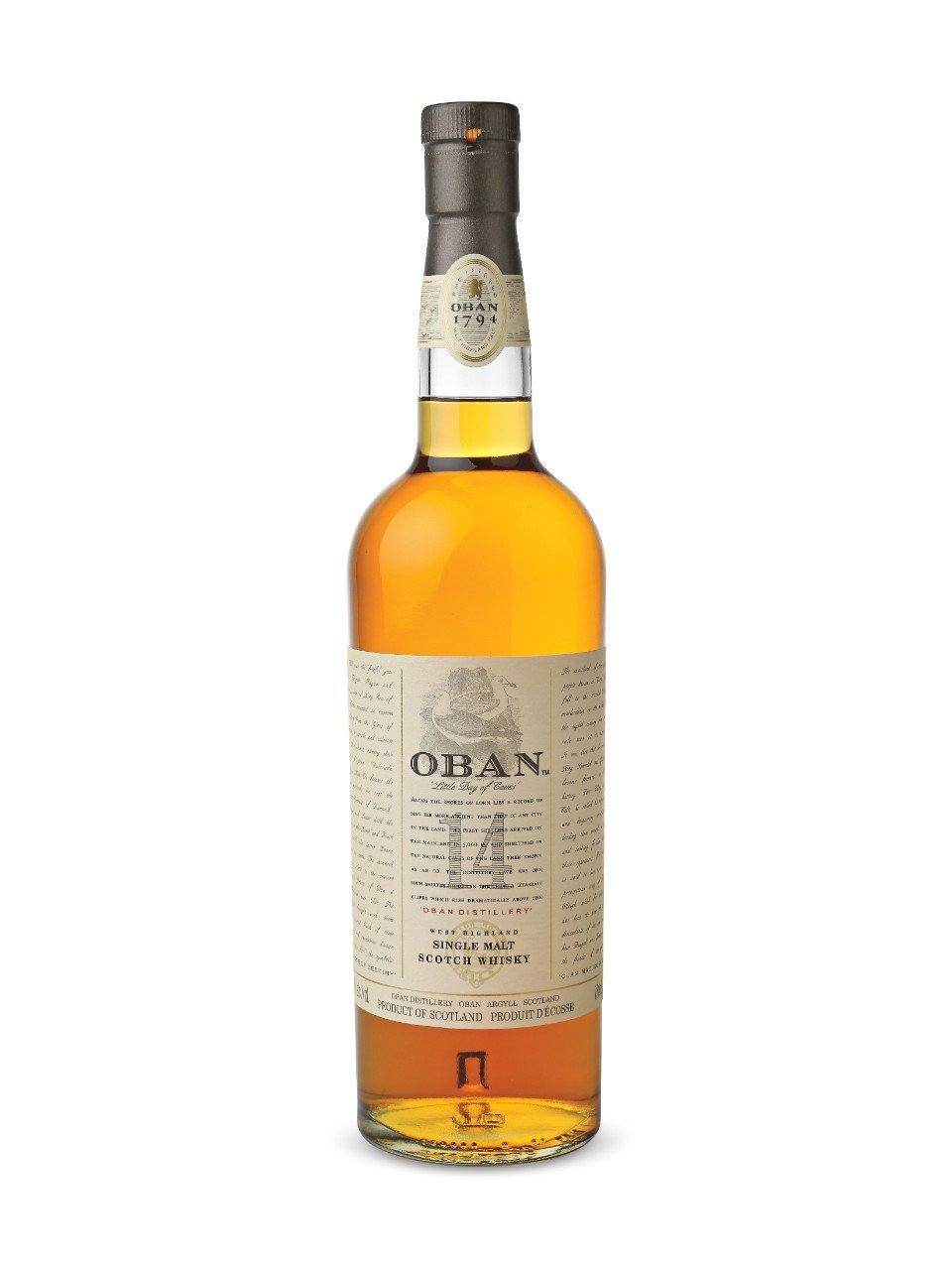 Oban 14 Year Old Single Malt Scotch Whisky
Sale price

$220.00
Regular price
Choose options