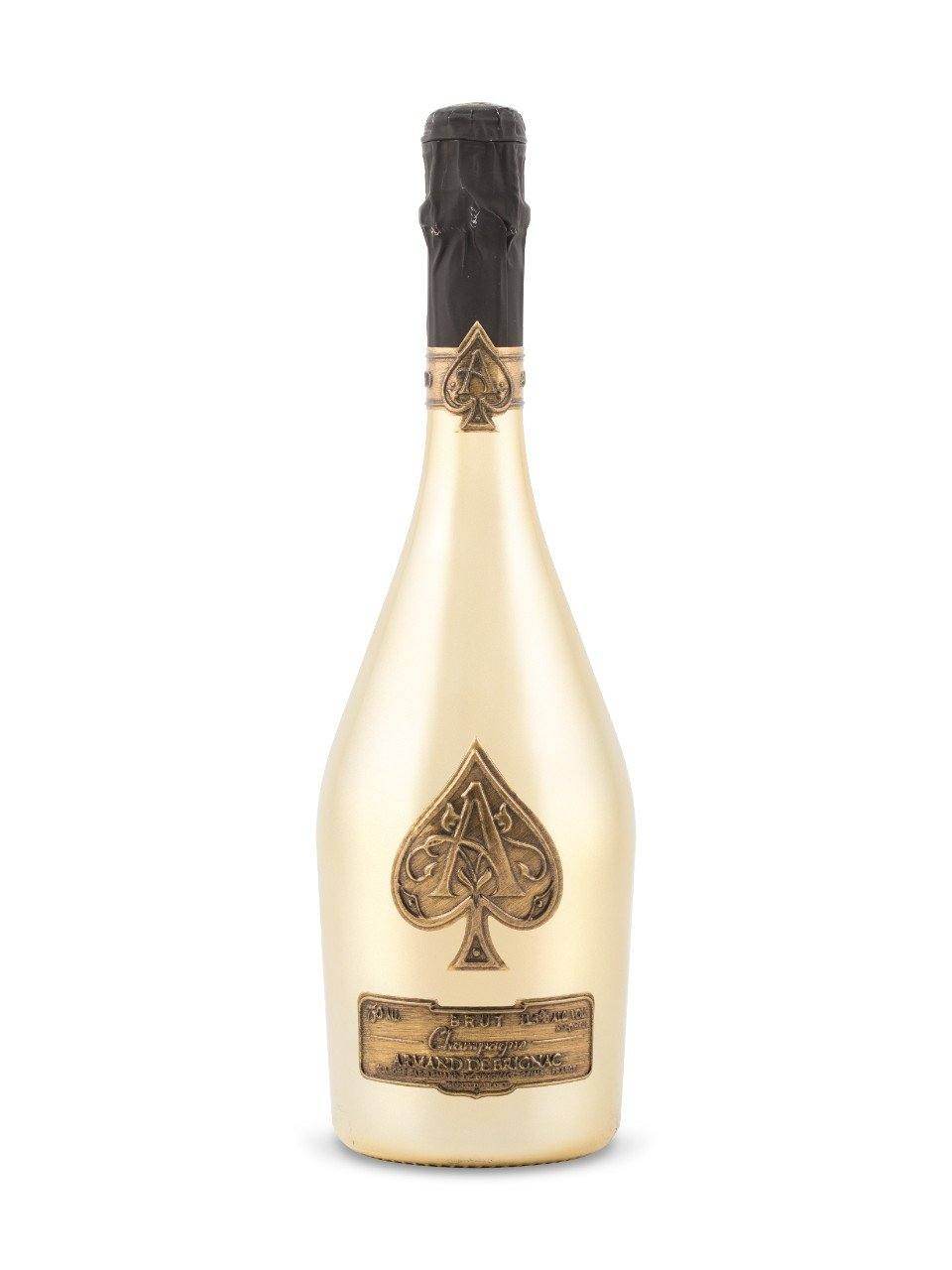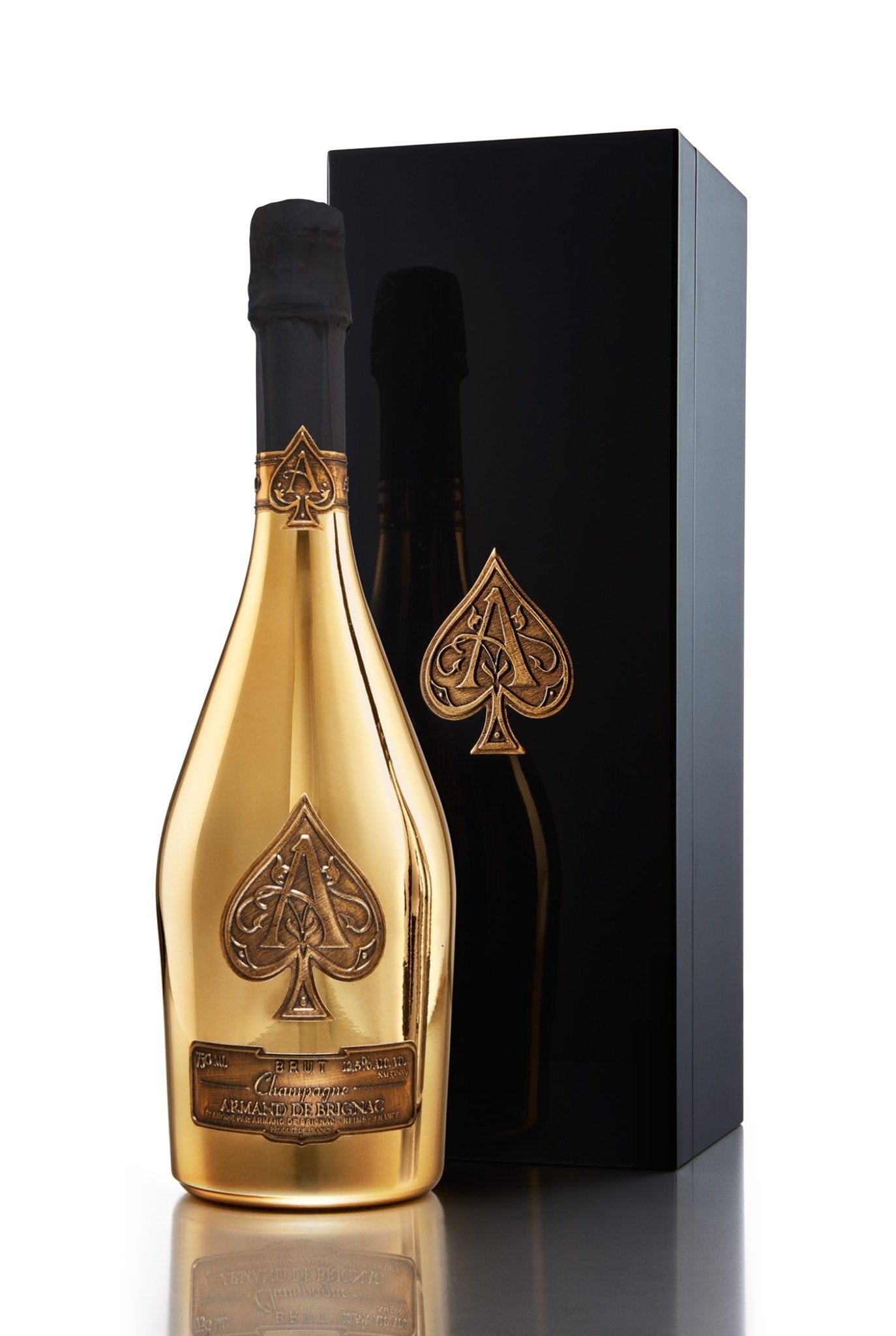 Armand de Brignac Ace of Spades Brut Gold Champagne
---
---
Armand de Brignac Ace of Spades Brut Gold Champagne – A Symphony of Luxury and Elegance
The allure of the Armand de Brignac Ace of Spades Brut Gold Champagne lies not only in its taste but also in the story it tells. Often referred to as the "Ace of Spades," this champagne, with its iconic golden bottle, epitomizes the zenith of luxury and craftsmanship in the world of sparkling wines.
Unraveling the Essence of Brilliance
On the first pour, this champagne dazzles with a golden hue, preparing the senses for an array of complex aromas. Delicate nuances of bouquet blossoms, accompanied by hints of brioche and fresh fruits, dance in harmony. Each sip is a revelation – from subtle notes of peach, apricot, and red fruits to a crescendo of toasted almonds and honey.
A Testament to Mastery and Tradition
The Armand de Brignac Ace of Spades Brut Gold is crafted with a blend of Chardonnay, Pinot Noir, and Pinot Meunier from the prestigious vineyards of Champagne, France. Its unique composition and aging process, which spans several years, culminate in a champagne that's both rich in character and finesse.
Toronto's Celebration, Elevated
For those in Toronto, indulging in or gifting this masterpiece has never been easier. With our Champagne delivery Toronto service, you can have this luxury delivered right to your doorstep. Whether it's a grand celebration, an intimate moment, or a gesture of appreciation, the Ace of Spades ensures it's truly special.
And if you're looking to gift this exquisite creation to someone in Canada, our seamless Canada gift delivery ensures it reaches with its elegance intact.
Armand de Brignac Ace of Spades Brut Gold Champagne – where luxury meets legacy. Let your occasions be marked by a champagne that stands as a testament to unrivaled craftsmanship and elegance.

Gifting Armand de Brignac: The Ultimate Gesture
Gifting a bottle of Armand de Brignac Ace of Spades Brut Gold is more than an act of generosity; it is a gesture that conveys esteem, respect, and a profound understanding of luxury. The act of giving this champagne is deeply symbolic, often marking important milestones and celebrations. For weddings, anniversaries, significant achievements, or the holidays, presenting a bottle of Ace of Spades is a way to express congratulations, to celebrate success, or simply to show appreciation for the finer things in life.
The experience of receiving Armand de Brignac as a gift begins with the visual impact of the stunning bottle, which can be further personalized with bespoke engravings or custom messages, adding a thoughtful touch that enhances the emotional value of the gift. It is a present that promises not only the pleasure of the champagne itself but also the lasting memory of the occasion it commemorates.
The Presentation: An Unboxing Experience Like No Other
Armand de Brignac takes the presentation of its champagne as seriously as its production. Each bottle comes in a luxurious lacquered wood box, the opening of which is an occasion in itself. The attention to detail in the packaging reflects the care and craftsmanship of the champagne, making the unboxing an anticipatory ritual that heightens the overall experience of the gift.
Pairing and Enjoyment
The versatility of Armand de Brignac Ace of Spades Brut Gold makes it an excellent pairing companion for a variety of dishes. It excels alongside fine caviar, oysters, or a delicate lobster bisque, but it also complements the rich flavors of aged cheeses and succulent white meats. Its complexity allows it to adapt to both subtle and robust flavors, making it a favorite for connoisseurs and chefs alike.
Exclusive Access: Armand de Brignac Events and Tastings
Ownership of a bottle of Armand de Brignac can sometimes provide exclusive access to private tastings and events. These occasions are curated to offer patrons a deep dive into the world of Armand de Brignac, showcasing not only the Brut Gold but also the brand's other cuvées, such as the Rosé and the Demi-Sec, each presenting a different facet of the brand's winemaking expertise.
Armand de Brignac in the Wine Community
The reputation of Armand de Brignac extends far beyond the sipping of the champagne. In the wine community, it is a subject of discussion and admiration, often cited in wine publications and competitions for its consistent quality and the winery's dedication to sustainable practices. Wine enthusiasts around the world seek to add it to their collections, and it holds a place of pride in many a cellar.
The Lasting Impression of Armand de Brignac
Armand de Brignac Ace of Spades Brut Gold is more than a champagne. It is an experience, a statement, and a legacy. From the first glance at the distinctive bottle to the final sip of its luxurious content, it is a journey through what champagne can be when passion, tradition, and excellence converge. For those who have had the pleasure, Armand de Brignac is a taste, once experienced, that is never forgotten, continually setting the gold standard in the world of luxury spirits.
Whether enjoyed in a quiet moment of reflection, sipped in celebration, or given as a prestigious gift, Armand de Brignac encapsulates the art of fine living. It is a testament to the fact that some things in life are worth savoring, and indeed, some moments are defined by the quality of the champagne in your glass.
In a world where the exceptional is often sought but seldom found, Armand de Brignac stands apart. Its allure is timeless, its quality unwavering, and its presence, whether on a table or as a gift, speaks of a life well-lived and moments well-celebrated.
| | |
| --- | --- |
| Type | Champagne |
| Grapes | 40% Pinot Noir, 40% Chardonnay, 20% Pinot Meunier |
| Region | Champagne, France |
| Winery | Armand de Brignac |
| SKU | 220244 |
| Alcohol content | 12.5% |
| Size | 750mL |
This product is currently only available for delivery in the following provinces: Ontario
Please be advised that the vintage of the product may differ from the image shown, as the latest vintage available from the winery or Liquor Control Board of Ontario's inventory will be delivered, unless the vintage is specified in the product title.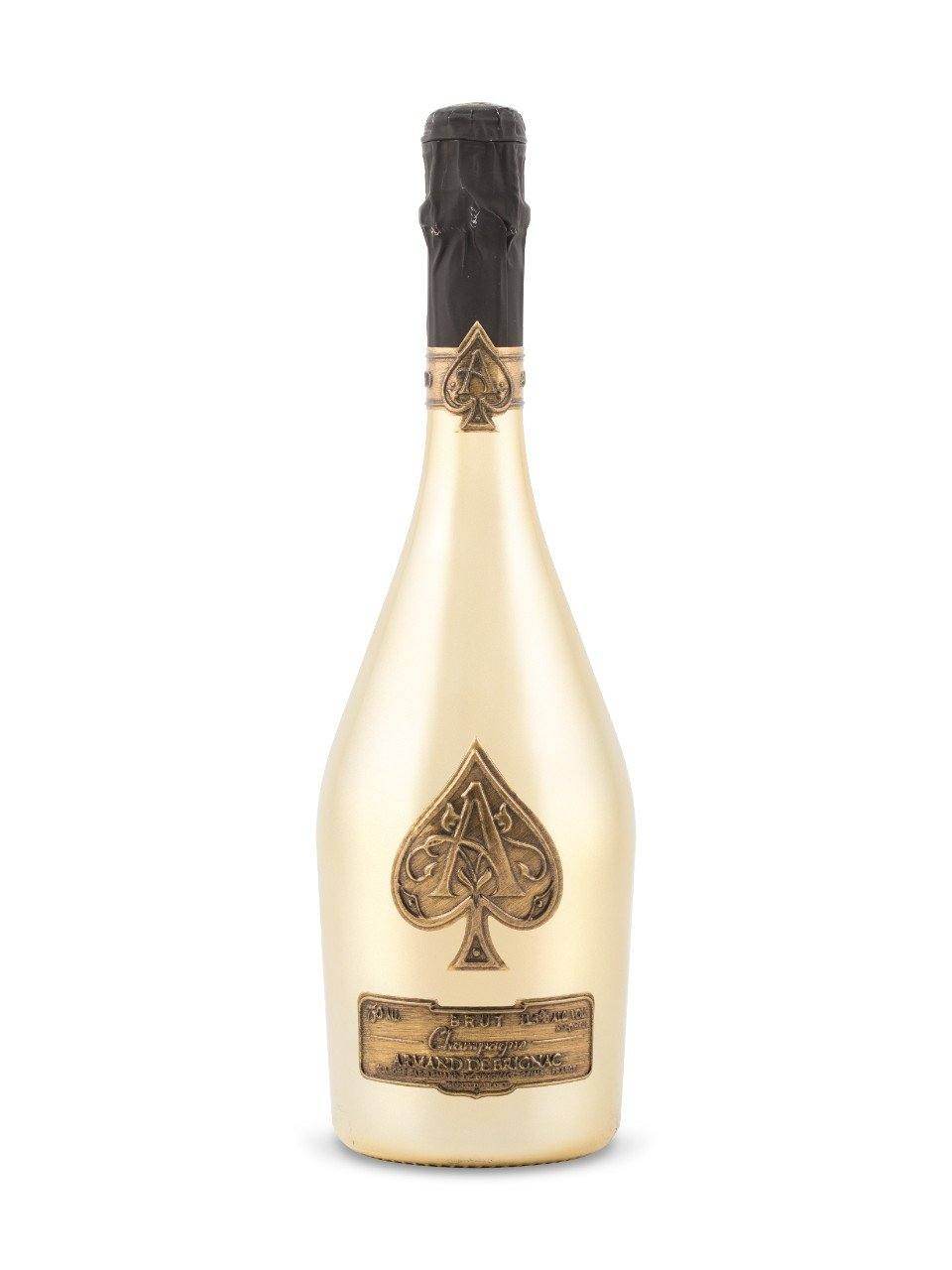 Armand de Brignac Ace of Spades Brut Gold Champagne
Sale price

$540.00
Regular price
Choose options